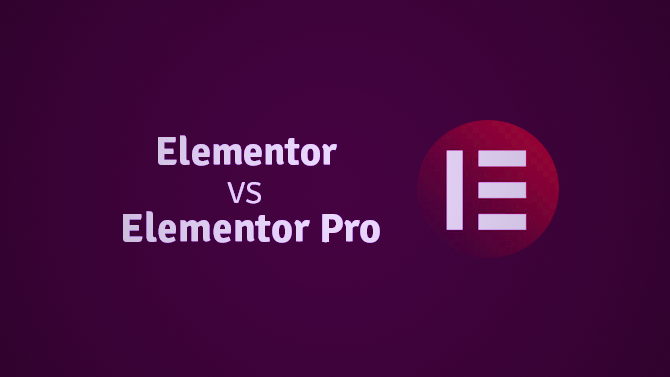 What is the difference between the Elementor Free VS Elementor Pro version?
Elementor is a page builder plugin for WordPress and is the world's leading platform for building websites on WordPress. With Elementor, you can create stunning websites for your clients, yourself, and your agency without knowing a single line of code.
If you have been using Elementor's basic version lately, then you are more likely to ask yourself whether you should go for the pro version of Elementor or not.
Let us help you understand the key difference between the free and paid versions of Elementor. Then we'll make some suggestions regarding the topic.
What does the free version of Elementor have to offer?
Elementor free or lite version can be downloaded directly from WordPress but don't think that free version doesn't do anything well.
Elementor free version offers you Elementor visual, drag-and-drop interfaces to design your pages, posts, and other content types. You can create a unique design for each page missing from the WordPress default feature set.
Template Library
Elementor's free version offers 100+ free amazing templates that you can add to your web pages to make your design flawless and a content block that you can add to the page by selecting from the group.
Widgets
The free version of Elementor comes with loads of widgets you can drag and drop to design the pages you want. 25+ widgets come with the free version, and more will be added soon.
Elementor Canvas
Elementor canvas lets you create professional and good-looking pages by removing the elements like header, sidebar, and footer on the page and creating your design. You can create landing pages or any other pages using canvas layout.
Responsive Editing
This feature allows you to switch between mobile or tablet views to edit your page accordingly. You can see your website responsiveness just by selecting the view you need, and your users can access the website by smartphone, tablets, or other devices without any hassle.
Background Options
This feature allows you to edit the background as you need. You can alter the existing background and add your chosen background to your page. You also can add videos to your page to make them look cool.
Elementor Pro Features
With the basic version of Elementor, you can do a lot of work, and Elementor pro adds some essential add-ons and functionality, which enables the builder to make web pages more stunning. Let's have a look at the features.
Theme Builder
A theme builder is a game-changing tool that allows you to change almost every section of the web pages, including the Header section, sidebar, and footer section. You can customize the pages according to your need.
Previously with the basic version of Elementor, you could make changes to the content part, but with the pro versions, you can make changes to the whole site.
Professional Page Templates and Blocks
The Elementor has many pre-designed templates and blocks that you can use to design faster. Elementor Pro offers more professional page templates and blocks. If you rely on the pre-designed template and blocks, Elementor pro is the right choice.
Form Builder
Every website needs a contact form or any other form for its site. Elementor pro comes up with an amazing form builder plugin that you can easily use to create forms on your website.
Global Settings
Global settings come in handy if you want to show the same widgets in multiple places on the website. The pro version comes with global settings, which enable you to customize the widgets from a single location. It will take effect on the global widgets on the website. This feature makes your design faster.
Live Custom CSS
The free version Elementor allows you to customize the CSS classes and IDs. On the other hand, Elementor pro allows you to customize CSS styles directly to individual widgets or sections. If you want to add CSS on your own, you should go for Elementor pro.
Embed Anywhere
This feature of Elementor pro allows you to embed the widgets anywhere on the page as you like it with the help of shortcode. It is helpful if you want to show some widgets to the footer, sidebar, or even blogs. You can also add subscription boxes, banners, or any other widgets using the shortcodes to the blog post.
Woocommerce integration
The free version of Elementor provides loads of Woocommerce integration for supporting the e-commerce business.
The Elementor pro version allows you to customize the e-commerce store as it unlocks more Woocommerce widgets, which helps you to edit and customize easily. You can drag and drop the widgets to customize the Woocommerce store parts.
Saving Options
The standard version of Elementor doesn't provide the save button for saving widgets; on the other hand, with the Elementor pro you can save widgets and easily save your progress so that you don't have to be in a fuss to recreate your design.
Elementor Pro Pricing
Elementor pro comes up with a price tag to show your product and product details, which is essential. On the other hand, the standard version doesn't have any price tag necessary for the product to show on the website.
Advance Motion Effect
Elementor pro allows you to create amazing motion graphics effects to your site to make your site visuals extraordinary. But with the standard version motion effect is impossible.
Elementor Free vs. Elementor Pro Which one to Choose?
Which Elementor you should choose is not a tough question to ask yourself. It fully depends on how you are going to use it.
If you are a generic user and don't have to design pages for your sites more often, then explore the free version of Elementor and see how you can use Elementor. If you get serious about it and conclude that you will use it for future designing, you can upgrade to the Elementor pro package.
2. As Elementor pro unleashes a huge amount of potentiality to your site and you are a professional designer, and your daily job is to make designs for different pages, then Elementor pro is the right choice for you as it makes your design process faster.